---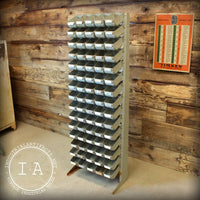 This enormous modular parts bin display holds exactly 75 small metal bins - they each have a set of hooks in the back that allow them to hang from the stand's bars. This would be great for a store display, as it likely was once used, or to hold collections of fun items or supplies. Each of the small bins measure 5 7/8" L x 3 7/8" W x 3" D. The bottom corners are rounded, so take that into consideration for the items you intend to store inside the bins. The stand measures 23" W x 12" D x 65 1/2" T. 
*Bulbs are not included unless specified
THIS IS A LARGE ITEM THAT WILL NEED TO BE DISASSEMBLED FOR SHIPMENT, EXPECT A SHIPMENT IN TWO BOXES REQUIRING ASSEMBLY.
I also have a wonderful selection of other industrial artifacts, please feel free to browse!
Please give me a call with any questions you may have 815-299-7625
Happy bidding
SHIPPING PRICES REFLECT THE FACT THAT ALL OF OUR ITEMS ARE INSURED FOR THEIR VALUE. SHIPPING COSTS ARE AN ESTIMATED REPRESENTATION; ACTUAL COSTS MAY VARY BASED ON ITEM AND DESTINATION.
INTERNATIONAL CUSTOMERS: Due to the high value of some of our items, many items shipped to internationally cannot always be insured for their full value. In these cases, we will insure them to the full extent available, but will not be responsible for additional damages above the available insured amount. International items are shipped via USPS; please become familiar with the insurance policy associated with your country.
FREIGHT CHARGES are an estimate to a commercial address or to the nearest freight terminal for pickup. Additional charges may apply for residential delivery. Please provide us with a zip code and form of delivery for an accurate quote.
IR-WH*-AWC-EeS