---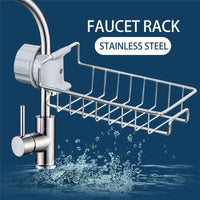 Sale
Features:
1. Clamp design, clip on the tap, easy to use;
2. Up and down, left and right can move and fasten tightly;
3. Place a dishcloth when washing dishes or small items in the kitchen, easy to store and not messy
4. Top hook design ,can put dishwasher hanging rope peeler;
5. hollow design, easy draining,
6. Strong bearing capacity, more reassuring to place articles;
7. The bathroom can also be placed in various application modes.

Specifications:
Size: 6.5*3.94*1.18 inch
Material: stainless steel
Weight: 220g

Installation steps:
1. Align the shelf to the snap
2. Insert the shelf into the clasp
3. Install the shelf on the faucet
4. Installation is completed and the snap is rotated.


Notes:
1. Applicable to most water pipes to meet the needs of most families
Suitable for faucet tube with diameter 2CM-2.5CM