---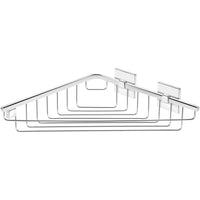 Square Self-Adhesive Bath Corner Shower Caddy 10.2 in. Shelf Organizer, Chrome. Created to bring everlasting beauty; this stylish shower caddy is designed to increase the level of elegance in your bathroom.
- Manufactured in Spain.
- Color: Polished Chrome
- Material: Brass
- Type: Self-Adhesive
- Easy installation without drilling
- Comes with 3M Glue Kit (high adhesion)
- Static Load Resistance of 11 lbs
- 10 Years Warranty
- Shape: Square
- Dimension: 10.2 W x 10.2 D x 3.1 H in.
NOTE: Do not use on painted surfaces or gypsum walls