---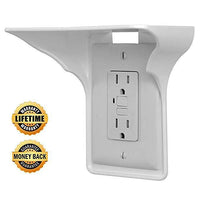 Sale
Create endless possibilities by having an instant counter space to any room with the Wall Outlet Storage Holder Rack.
It's the ultimate outlet shelf solution that can hold a wide range of common household items including smartphone, razors, toothbrushes, skincare devices, toothpaste, electronic devices, and much more. You can now maximize the space using your existing outlet cover and keep items off the floor and countertops.
This Outlet Shelf is useful in small living spaces like the bathroom, dormitory room, studio apartment, and more. It efficiently keeps the cords tucked away to eliminate messy hanging cords. You can rely on this product's durability and it is also easy to install in a matter of seconds with no need for additional hardware.
Simply remove the wall plate, install the shelf, and start using it. You can now enjoy a stress-free lifestyle by having your electronic devices neatly organized with the New Wall Outlet Shelf!
HIGHLIGHTS
It's the ultimate outlet shelf solution

Hold lightweight items up to 9lbs

Maximizes space
Keeps items off the floor and countertops
Sturdy and durable
Stores essentials while charging
Provides effective cord management
Hassle-free installation
Sleek modern design
Suitable for use in bathrooms, kitchens, dormitories, bedrooms and garages or any space-consuming area
It can accommodate all kinds of common household items, including razors, toothbrushes, toothpaste, electronic devices, and smart home speakers
No additional hardware is required, just remove the old cover and replace it

SPECIFICATION
Material: High-quality Plastic
Product Dimension: 6.3 x 6 x 4 inches
PACKAGE CONTENT
1pc - Wall Outlet Storage Holder Rack