---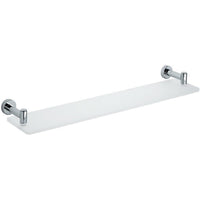 BA Tecno Wall Mounted Frosted Glass Storage Shelf Organizer Towel Rack 24". Created to bring everlasting beauty; this stylish Shelf is designed to increase the level of elegance in your bathroom. Keep your bathroom organized and tidy.
Wall Fixing with Glue Set (Kit Idea) - Included. Allows you to install item without drilling holes.
- Manufactured in Italy.
- Material: Brass, Frosted Glass.
- Color: Polished Chrome.
- Type: Wall Mounted.
- Shape: Rectangular
- Dimension: 23.6 W x 5 D x 1.9 H in.