---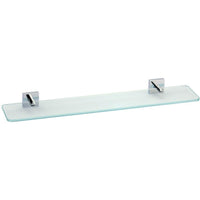 BA Quattro Wall Mounted Glass Storage Shelf Organizer Towel Rack - Brass. Created to bring everlasting beauty; this stylish Shelf is designed to increase the level of elegance in your bathroom. Keep your bathroom organized and tidy.
- Manufactured in Italy.
- Material: Brass, Glass.
- Color: Polished Chrome.
- Type: Wall Mounted.
- Shape: Rectangular
- Dimension: 23.6 W x 5.3 D x 2 H in.