---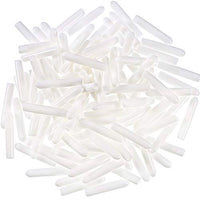 Sale
Come with 200 pieces dishwasher prong rack tip tine cover capsThese white tip end caps are 1/ 8 inch in inner diameter,1 inch in length;size fits for most dishwashers

Replace the PVC tip tine cover caps of your restore rack will make it in good appearance and away from rust, keep the rack clean,They are useful accessories to prevent dishware from rusting and scratching

These tip tine cover caps are made of PVC material, you can push them on in seconds without any glue or adhesive,can be easily moulded around irregular tubular shapes

Helpful to restore your rack, and you don't need to buy a new rack to replace the old damaged one

Wide application - good for dishwasher prong rack, rubber cap, thread protector, covering screws or other threaded parts, etc

Color : 25mmLong 200Pcs
Package content
200 pieces dishwasher rack tips(white)
Material: pvc
Size:1/ 8 inch in inner diameter, 1 inch in length
Wide application: good for dishwasher prong rack, rubber cap, thread protector, covering screws or other threaded parts, etc.

Tips:
1.Please remove the rust spots before installation,these tine cover caps are easy to install, which just need to push it on or take it off by hand, just spend seconds and don't need any glue or adhesive.
2.Check the prong rack caps before using the dishwasher and make sure the tine cover caps fit firmly for the dishwasher rack
3.Please push them on tightly to make sure that they fit snugly in case they come off.Protect the dishwasher prong rack and any other pointed tip from rusting and scratch damage, protect your hand from pointed tip.