---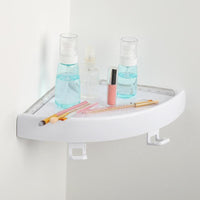 Sale
Keep Your Home Clean And Dandy With Shelf Caddy™️
Finally, an easier and simple solution to keeping your home well organized and not have to deal with the constant clutter. Introducing the Shelf Caddy™️- The perfect solution to organizing your home.
Made with super strong suction support that stays in place and holds up with ease. Which means you can set it up without any drilling or screwing into your precious walls.
 You can use it not only in your bathroom as well but any room in your home. Decluttering your home and giving it a more clean and elegant look to it.
No more reaching to grab the soap or reaching all the way in the kitchen cabinet for your favorite spices. The Shelf Caddy does all the hard work so you don't have to. Giving you easier access to all of your stuff in just minutes after installing it.
It's not just our amazing products that have kept us in business for as long as we have. It's our never-ending dedication to making sure you have the best experience with us every single. With the Shelf Caddy™️, you get reliable, consistent and most importantly... A better-organized bathroom. Get yours today so you can keep your home looking clean and organized.
Benefits
Easy To Set-Up - In no time without having to drill a hole in any wall or bang a nail in and damage your bathroom. Making it much easier to install without using any tools at all.
Convenient - Gives you easy access to all of your bathroom essentials in arms reach. You can set it up in your shower or you can set it up on your bathroom wall and start using it in no time.
Reliable - Maximum suction that's super strong, waterproof and never loses its strength. Lasting you years and years without any signs of wear and tear or water damage.
More Organized - Decluttering your bathroom and giving it a more well organized and elegant look. Leaving house guests amazed at how incredible your bathroom looks.
Our Guarantee - If for any reason you feel that this product isn't for you feel free to send us an e-mail at our store address and we'll promptly refund your money. No questions asked