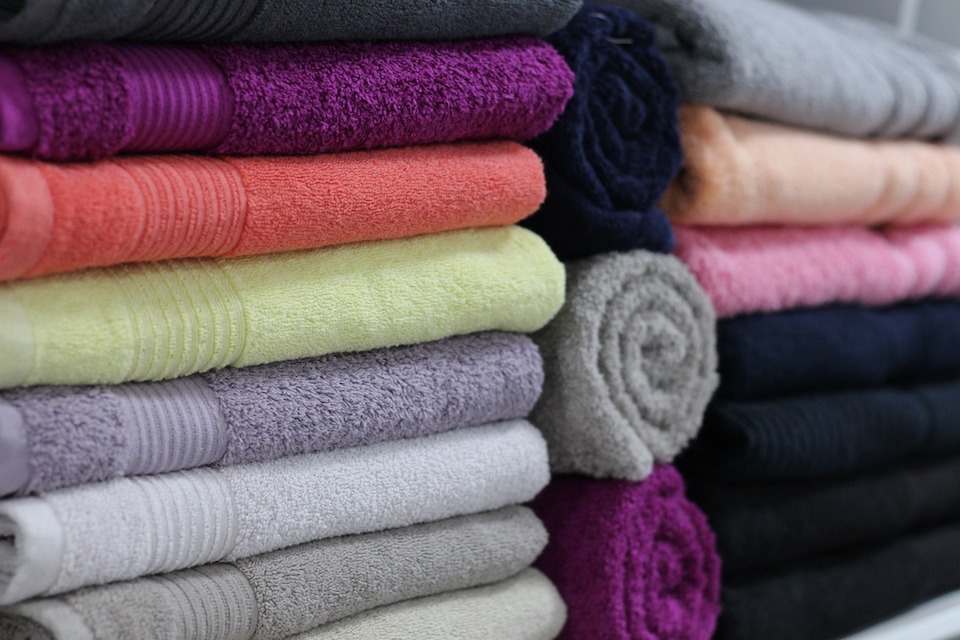 Where is the messiest closet in your home? Chances are, its located in one of your bedrooms.
But linen closets are another of your homes closet spaces that never seem to stay organized for very long. Its no wonder, considering theyre used on such a regular basis.
Get organized with these linen closet ideas
Most family members prioritize the quick acquisition of whatever item they need from the linen closet over concerning themselves with how tidy theyre leaving things before closing the door.
Linen closets are also an organizational challenge because their contents are rarely curated, causing them to become overstuffed.
If any of this sounds all too relatable to the messy linen closet situation in your own home, weve got some useful linen closet ideas and tips to help you get things more organized.
Why every home needs a linen closet
If your home doesnt have a linen closet, you might be wondering if its something that you really need.
You might be surprised to learn that according to the 2018 Canadian Home Builders Association Homebuyer Preference Study, linen closets were a must-have feature for 89% of surveyed buyers.
Most of todays homebuyers and anyone with a linen closet know the benefits of having a dedicated closet space to store all of their towels, sheets, and other linens.
Think about how many types of linens and related items are used in the average home. In addition to the linens that were previously mentioned (and consider that they each come in a wide variety of types and sizes), the following things require storage space, too:
duvet covers and inserts, comforters, and blankets

pillows, pillowcases, and

mattress covers

sheets, pillows, and towels for guests

regular and holiday-themed tablecloths, placemats, and cloth napkins

toiletries and other bathroom supplies
For those without a linen closet, having to share some of these things with your bedroom, bathroom, kitchen, and front entryway closet spaces causes a couple of issues.
First, it scatters your stored linens around the home, which makes things harder to find. Second, your closet spaces, dresser drawers, or wherever else linens are being stored become even more overburdened and difficult to manage.
Having a single closet storage space with dedicated homes for all of your linens will save you from wasting time looking for things.
And a makeover to this closet space creates a tidy and uniform look to your linen closets storage thats as clean as your fresh linens.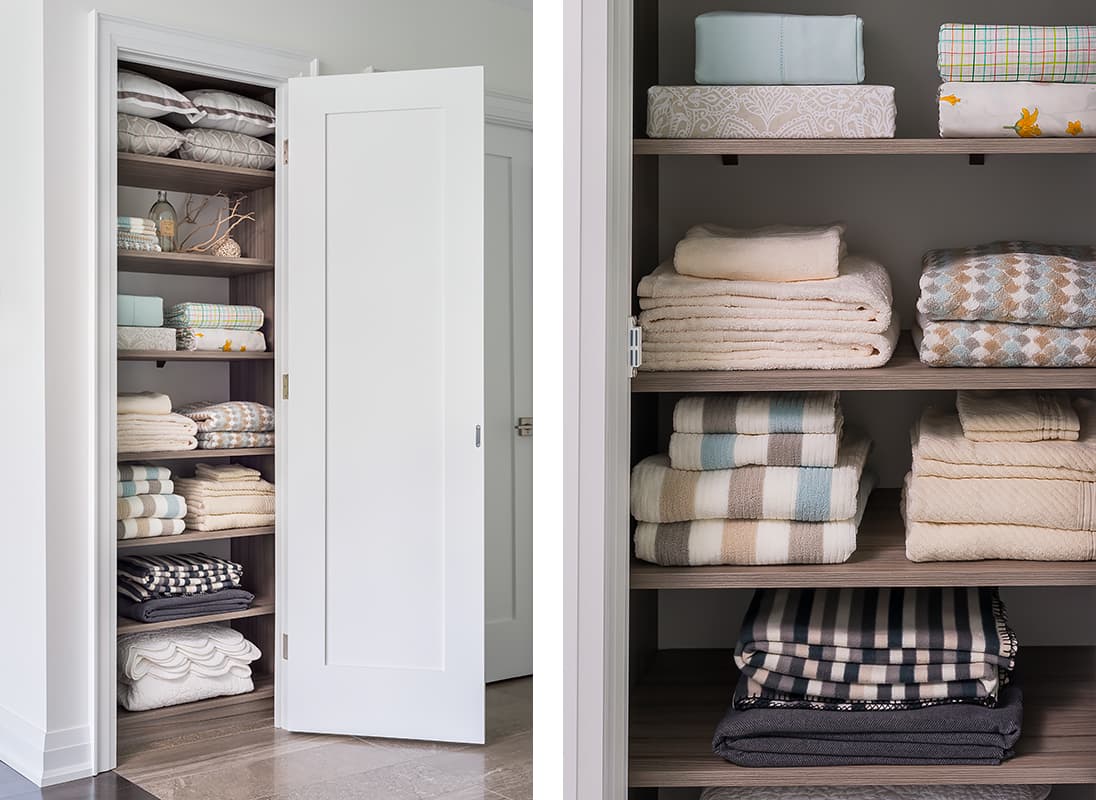 Storing linens in the bathroom? Heres why you shouldnt.
Many homeowners keep their spare bathroom linens stored in their bathrooms, whether its on open shelves, in drawers, or tucked away behind cabinetry doors.
While it might seem practical and convenient having these items right where theyll be needed, there are several reasons to avoid doing this.
The biggest problem is the damp, humid environment. Even with good room ventilation and regular bathroom cleaning, storing fabrics on a long-term basis in the bathroom makes them susceptible to mould and mildew issues.
Adding shelving to your bathroom walls, over the door, or buying a freestanding bathroom organizer to store linens has drawbacks as well. All those extra storage systems, in addition to the visual clutter all of those stacked linens add to the room, can make a bathroom look messy and overcrowded.
If youre not regularly rotating the towels and cloths stored on open shelves in the bathroom, the very thing youre using to dry off after getting clean could be covered in months of dust.
And heres one rather unpleasant fact thats sure to make you hasten your effort to eliminate the storage of linens in your bathroom the toilet plume.
Several studies have found that when some toilets are flushed, the force causes a spray that contains microscopic particles of bacteria from the bowl to get released into the air. That spray (or plume) comes down on anything within approximately six feet of the toilet. Yuck.
Just a little food for thought if your spare towels (or, even worse, your toothbrushes) are stored anywhere close to your toilet bowl.
Step 1: talk to a closet design professional
Whether youre adding a closet space or redoing an existing linen closet, the simplest way to ensure success with the project is to entrust it to a professional.
Organized Interiors are experts in designing closets for any room in your home. From your initial free in-home consultation with one of our design consultants right through to the closets installation by our professional installers, well ensure every aspect of the project meets your expectations.
Compared to a large walk-in closet makeover which is obviously much bigger in scope, a linen closet remodel represents the type of simpler closet design we also specialize in.
This type of closet remodel can fit most budgets and typically involves less turnaround time for your order. That means you can get your linen closet storage needs addressed that much faster.
Edit your linen closets contents
Before your reconfigured closet is designed and installed, a thorough editing of your closets contents will make life significantly easier when it comes to keeping your closet tidy in the future. Like most linen closets, its probably overdue for a good purging.
As with any thorough curating of your closets clothing, the best method is to completely empty the closet entirely so nothing gets missed. Closets with deep shelves that can hide things at the back of the closet will especially benefit from this process.
Take stock of whats in there and determine when it was last used. Check each linen to see whats worn, faded, damaged, or just outlived its usefulness.
If theyre being used and washed regularly, bath towels generally have a lifespan of a couple of years. When they start getting stiff and rough, theyll become less absorbent and should be replaced.
Pillows should also be replaced after about a year or two of regular use. Consult this link to find out the lifespans of various pillow types.
Remove linen sets with missing or mismatched items, or old sheets for a bed size you no longer own. Now is also a good opportunity to get rid of linens that no longer align with your current design tastes.
Lots of linen closets have a bulky complete bedding set that was bought on sale years ago and has never been opened. Decide if youll realistically get any use out of it and if not, add it to your donate pile.
Heres one more reason to create as much space in your linen closet as you can in a larger family, the space needed for storing bath towels alone can take up a fair bit of space.
Experts recommend washing your bath towels a minimum of once a week and ideally every three or four days. That adds up to a whole lot of towels entering and exiting your closet every week!
Create closet storage zones
When discussing your linen closets design, your design consultant will want to know how youd like it to be set up.
Youll want to establish storage zones within the closet that make it easier to distinguish different linens and keep them organized.
Try to create zones that are categorically organized, with extra toiletries and all linens for bedrooms, the dining room, kitchen, and so on being kept together. If your closet space allows for it, separate the linens for each bedroom in their own zone.
Keep your most often-used linens such as bath towels and washcloths at a comfortable, easy to access height. Less frequently needed items like pillow and linens used during holidays and special occasions can be stored on the top shelves.
Labelling each zone is a smart way to help ensure your closets zones stay more organized.

Use an organization system that works for you
Once you have an idea of what zones will comprise your closet space, establish an organization system that will make your linen closet as convenient and easy to use as possible.
To evenly distribute the usage of your linens and to keep then fresh, regularly rotating them is essential. Some people like to put their folded linens on top of the pile and pull from the bottom, while others prefer the opposite method.
Maybe you prefer to keep your bath towels rolled up. If so, shelf dividers can help to keep them tidy and organized. Whatever works for you.
Depending on how much closet space is at your disposal, give your linens as much space to breathe as you can.
Another tip that makes linen storage simpler is to fold your bed sheets into their matching pillowcase, which saves time searching for linen sets that match.
Maximize your linen closets storage space
No list of linen closet ideas would be complete without a few tips on how to maximize your storage space.
The beauty of a custom closet design is that your closet space can be precisely configured to provide you with the optimal amount of storage space the closet allows for.
The linen closet is typically a narrow vertical space thats the smallest closet in the home, which makes getting the most out of it so important. You also want to maximize the storage space without the closets contents feeling overstuffed.
Adjustable shelves are important to not just aid you in making sure space isnt wasted, theyre also valuable when your storage needs change and you need to reconfigure how your closet is set up.
Using more shelves is better than having things spaced out too much with linen stacks that are too high. Higher stacks of linens creates two issues that contributes to a messy closet space:
the linens will start leaning and be more likely to topple over
when someone wants an item from the bottom of a stack, theres more linens to contend with
You may wish to have some pullout shelves added your linen closet, which lets you take advantage of a deep closet space by making items at the back of shelves easier to access.Drawers are another option that provides additional storage versatility if your closet is big enough.
Dont forget the small extras
To conclude our list of linen closet ideas, dont forget about those small extras that will make your closet space more functional.
Some new closet lighting and a fresh coat of lighter coloured paint to reflect the light better will make things easier to find and update the closets dcor.
Using shelf risers, small bins, and baskets will help your small linens, toiletries, and miscellaneous items in the linen closet stay tidy.
Were the leader in smart linen closet ideas and solutions
For anyone who cant seem to keep their linen closets effectively maintained and tidy, we have creative linen closet ideas and solutions to keep your home organized.
To create the ideal linen closet space in your home, book a free in-home design consultation with Organized Interiors today.
Please share this post if you found it useful.
See also: