The holidays are over and now youre wondering, what to do with Christmas wrapping paper? Or maybe you have a birthday party to go to every month and need tons of wrapping paper on hand, but youre just not sure how to store it? These wrapping paper storage and organization ideas will have your wrapping paper organized in no time! Seriously, these gift wrap storage ideas are the best organizing ideas from all around the web! Check out all the ways to organize wrapping paper below!
Use an Under The Bed Storage Box
Using an under the bed storage box is a brilliant way to store and organize wrapping paper! An under the bed storage box is long enough to hold rolls of wrapping paper. Plus it is large enough to add small storage containers for tape, ribbon, bows and gift tags! If youre not already using under your bed for wrapping paper storage, this is a simple way to organize wrapping paper and keep it out of sight!
Pick up a fabric storage box here or find a plastic one at a local retailer!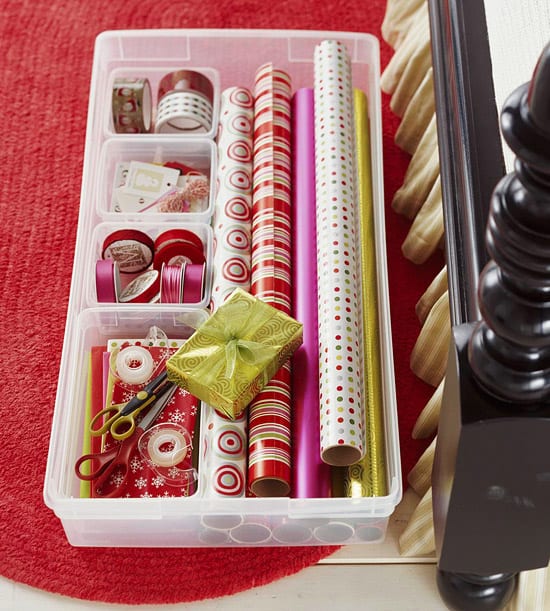 Tip & Image Credit: BHG
Bonus Tip:
On Amazon, they have Under Bed Storage Boxes made specifically for Wrapping Paper Storage! They are a little bit more pricey, but this one holds up to 24 rolls of wrapping paper, bags, and bows! See it here!
Use a Garment Bag
Using a garment bag to store wrapping paper is so genius! I mean what better budget friendly way to organize your wrapping paper! You can usually pick up clear garment bags for just a few dollars online or at your local Walmart or Target. But I have also seen them before at the Dollar Tree!
If you have extra closet space to store wrapping paper in garment bags, then this wrapping paper storage idea is a winner for you! Simple, easy and cheap!
Grab a 5 pack of Garment Bags here!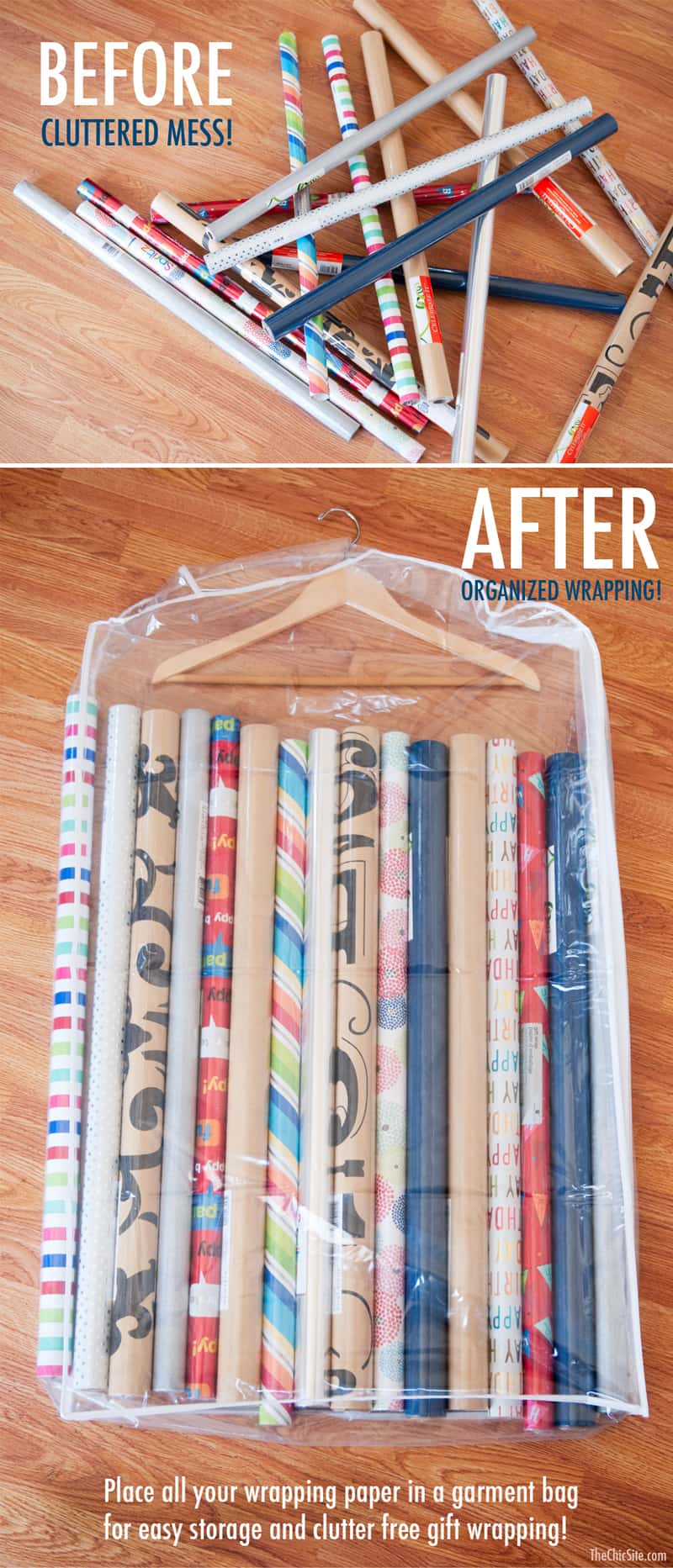 Tip & Image Credit: The Chic Site
Or want something as small as a garment bag but extra pockets for bows, ribbon, and tape? This double-sided gift wrap and bag organizer is super thin and holds everything you need to wrap gifts!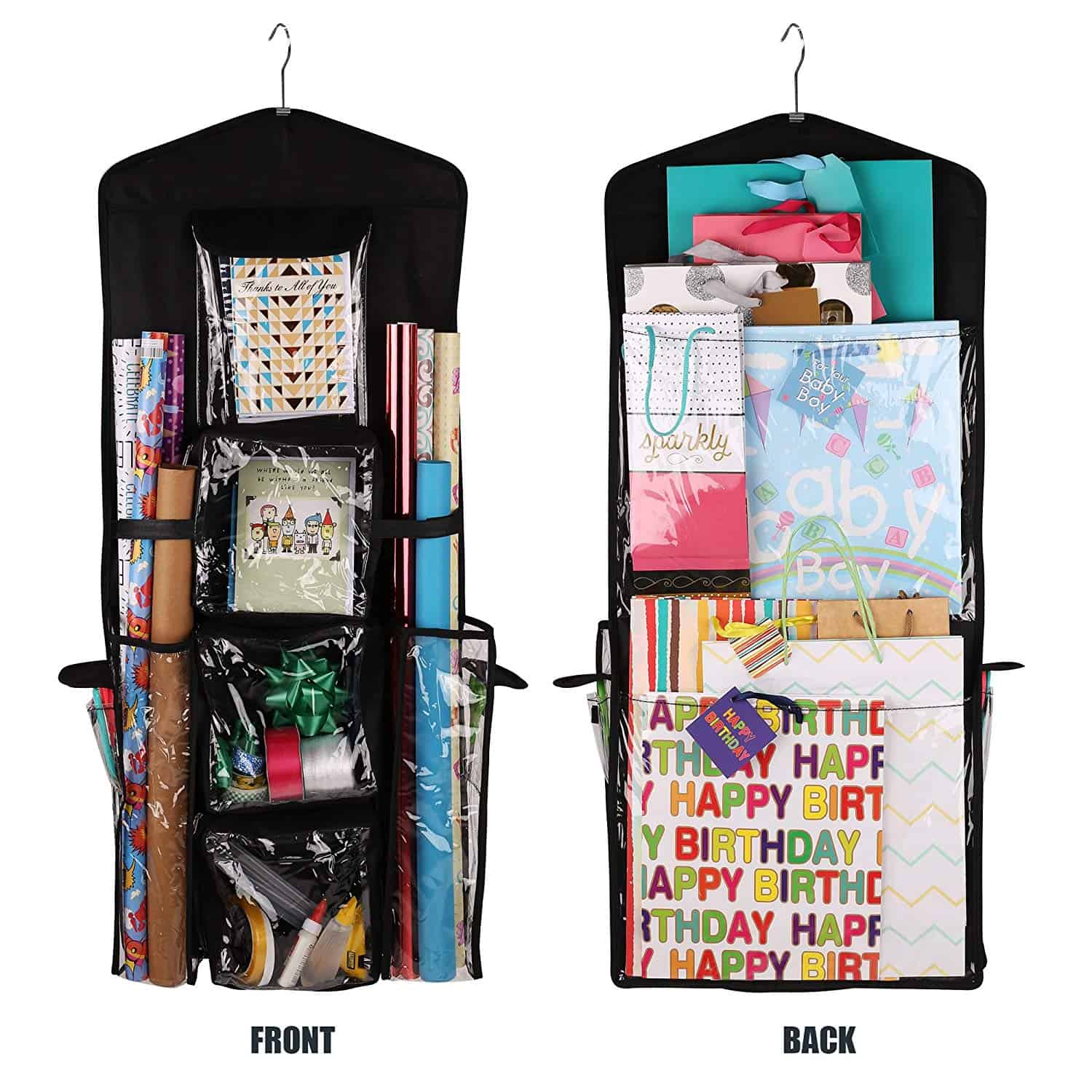 Wrapping Paper Storage Organizer
If garment bags arent your thing and you want to get a little more specific with organizing your wrapping paper, than this hanging wrapping paper storage systems is perfect for you!
This hanging wrapping paper storage organizer holds up to 20 rolls of wrapping paper! Plus it has extra pockets for bows, bags, and more!
It seriously has room for everything you need when wrapping a gift.
If you have around 12 of free space in a closet, then this gift wrap organizer is perfect! Plus you can get it for less than $15 dollars!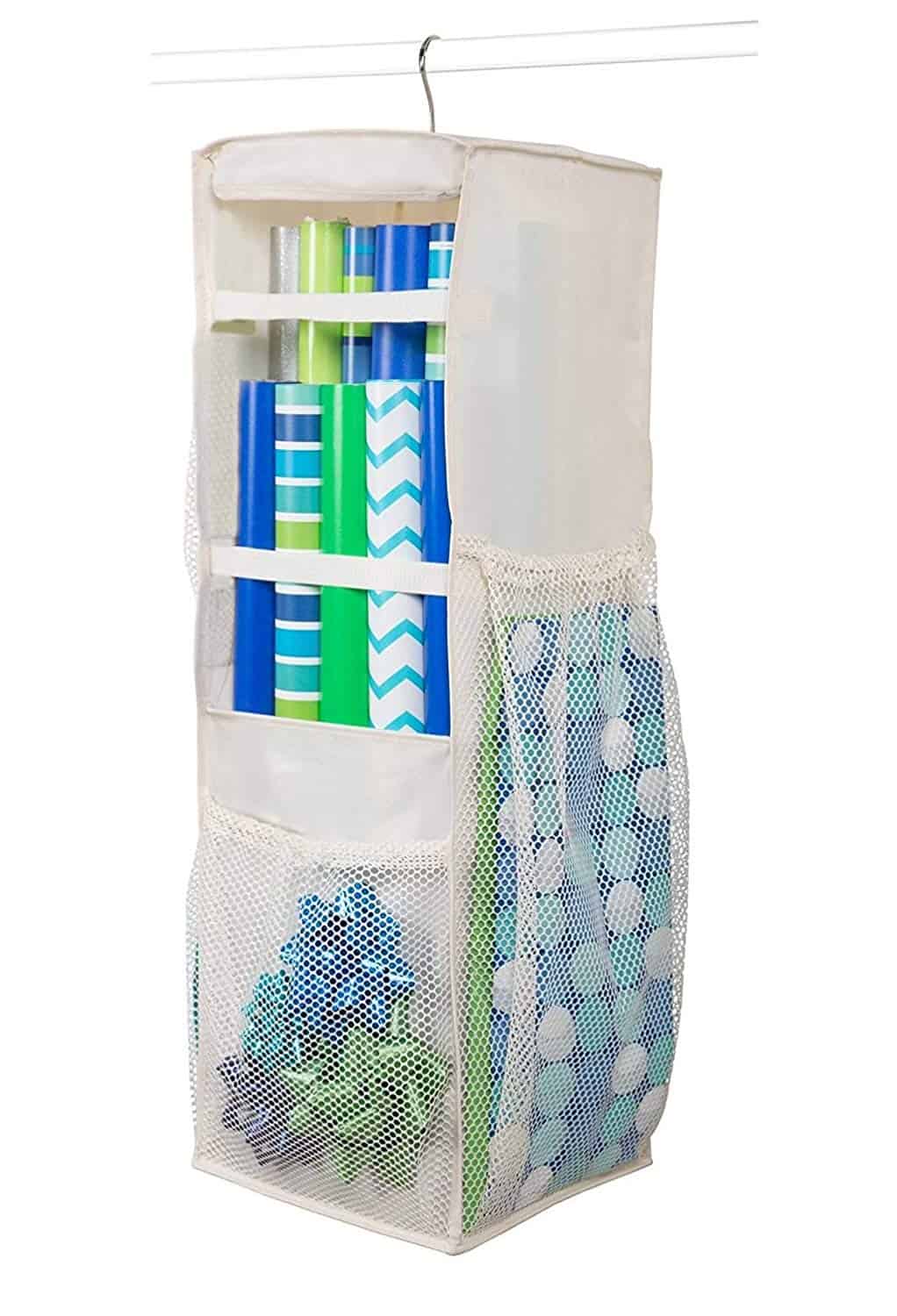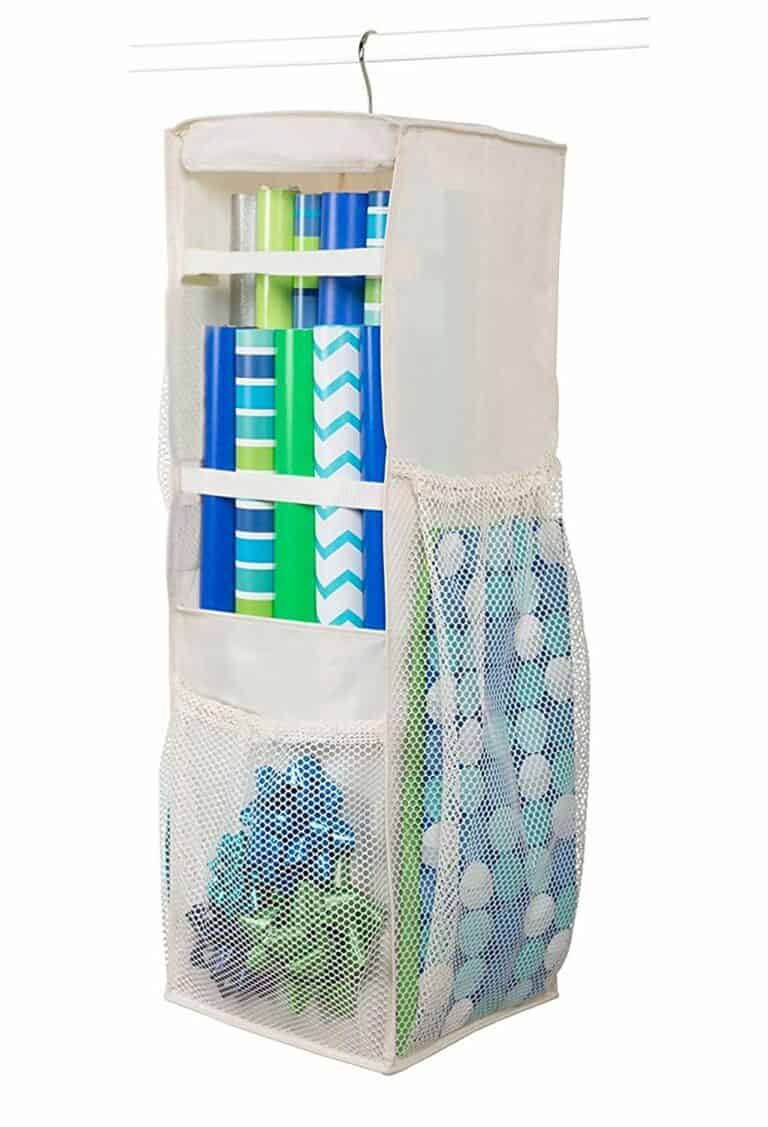 Over the Door Organizer
Got an extra door youre not using? Then why not use that blank space to store and organize wrapping paper! Using a door rack storage organizer is a great way to store wrapping paper, bows. ribbon, tape, etc.
There are plenty of baskets to organize everything you need. And you can customize the height of each basket to fit extra long rolls of wrapping paper.
Grab a door rack storage organizer here for less than $35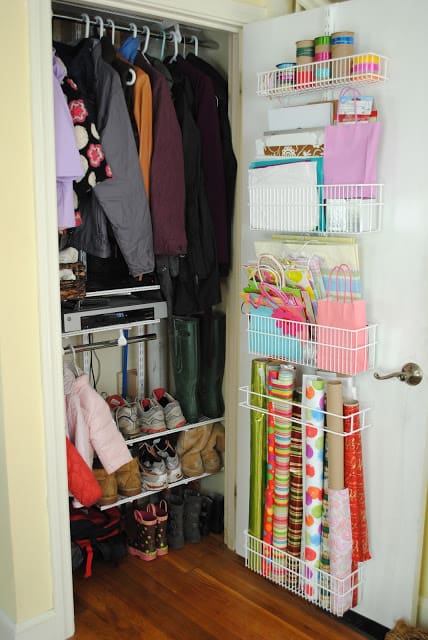 Tip & Image Credit: The Chronicles of Home
DIY Gift Wrap Storage
As always, I love all of I Heart Organizing tips, and this one is no different. She took dowel rods and hooks to make her own gift wrap storage display and organizer. If you have a shelf where you can horizontally organize wrapping paper, then you must check out her tutorial here!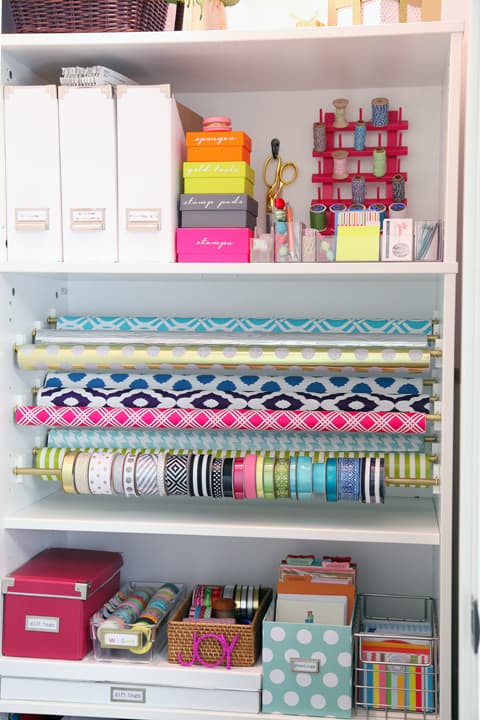 Tip & Image Credit: I Heart Organizing
Wrapping Paper Storage Bag
Want a cheap and easy way to keep your wrapping paper safely stored and hidden in a corner or a closet? This Wrapping Paper Storage Bag is less than $10 dollars and makes storing up to 25 rolls of gift wrap easy!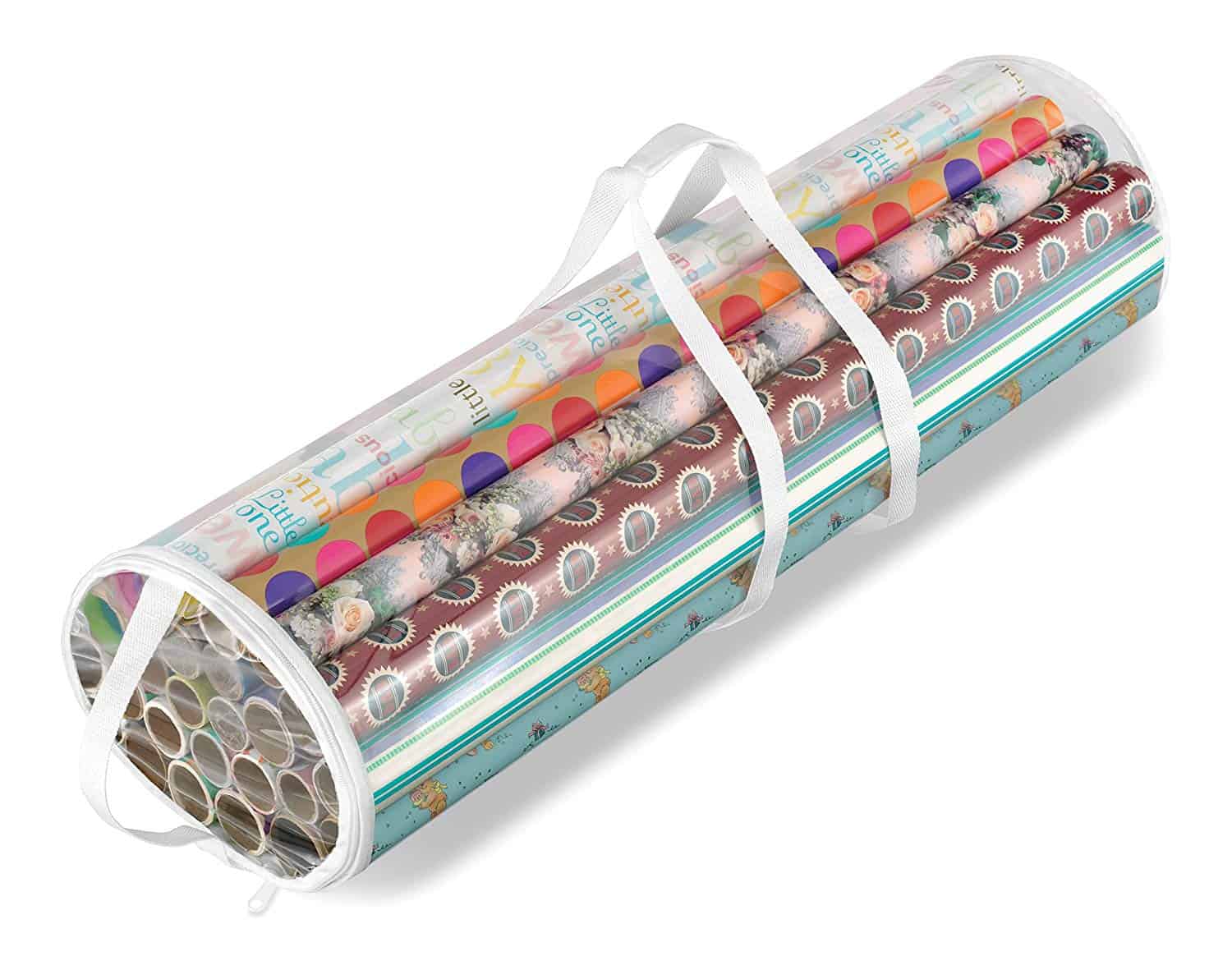 Store Wrapping Paper in a Laundry Basket
Storing wrapping paper in a laundry basket is also a brilliant idea! Plus a really cheap option! If you have an extra corner, grab a fabric laundry basket and toss your wrapping paper in it!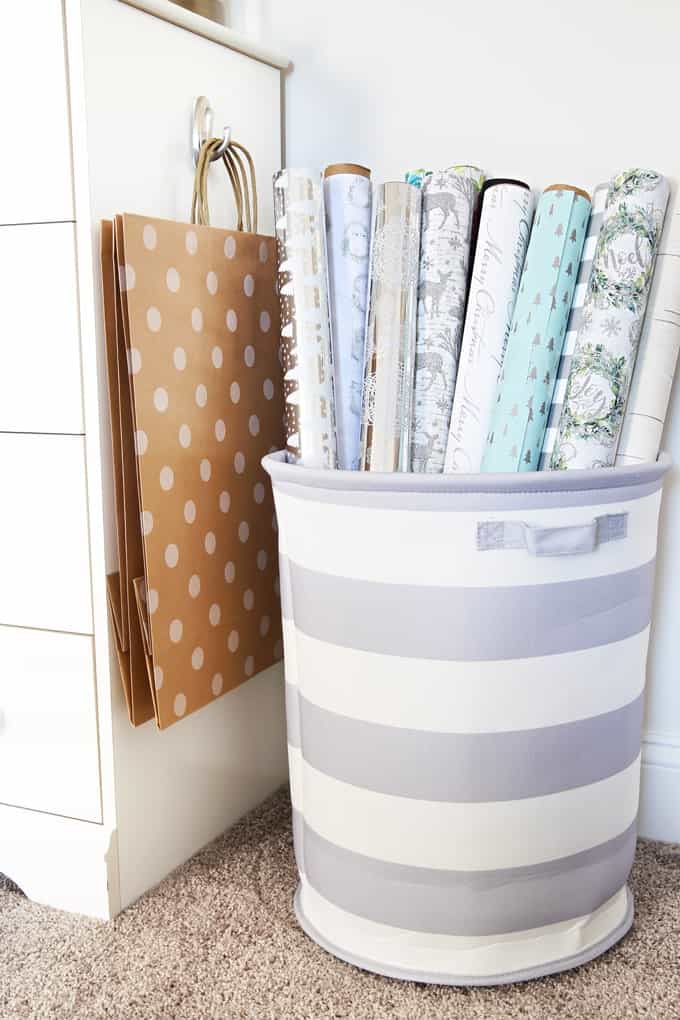 Tip & Image Credit: Just a Girl and Her Blog
Behind The Door Organizer
Use dead space behind a door to build your own gift wrap, storage organizer. This gift wrap station has everything you need to store bows, bags, gift tags, and wrapping paper. Find out how to to build it here!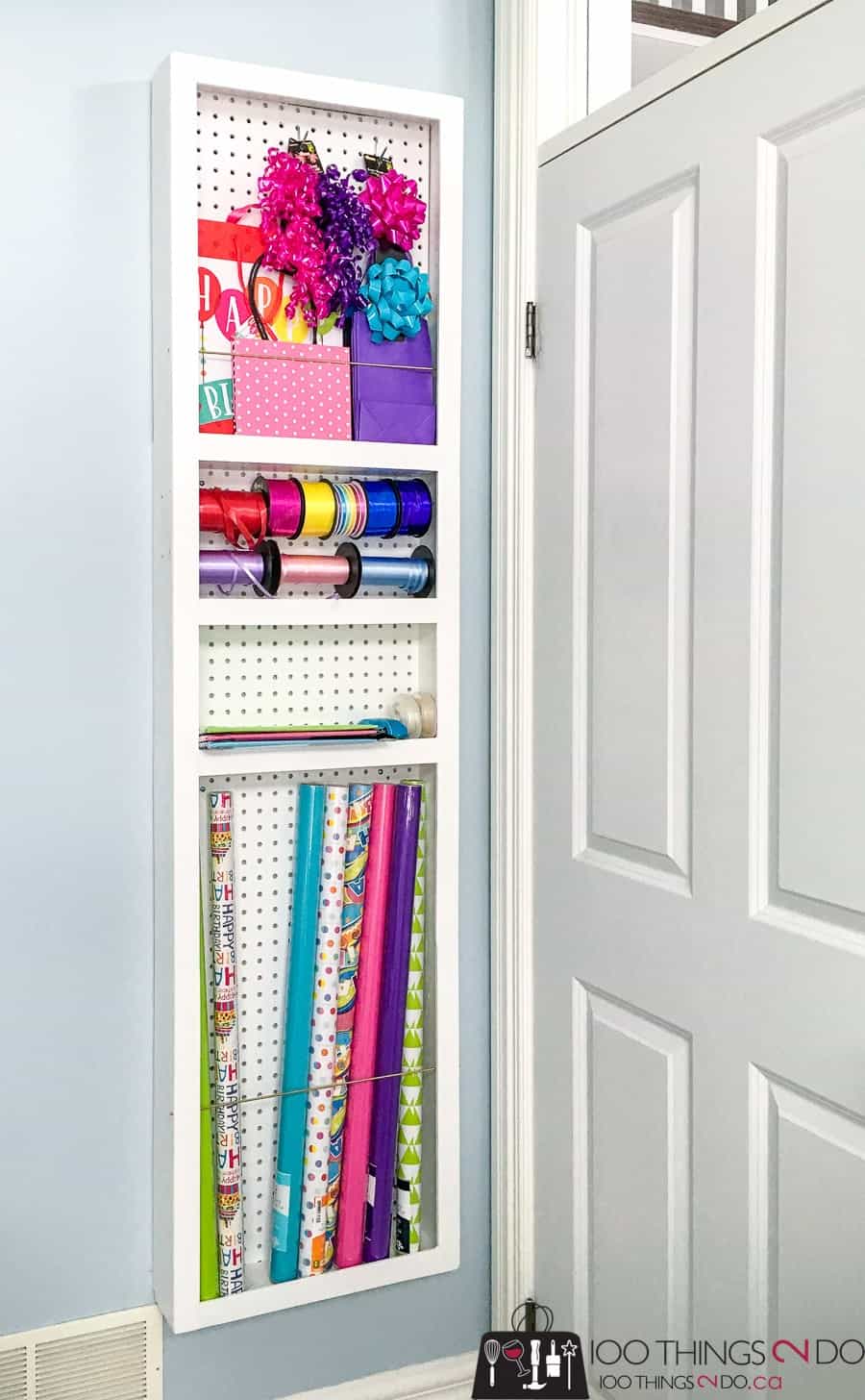 Tip & Image Credit: Find out how to to build it here!
Use a Trash Can & Cabinet Door Basket
I love this idea of hanging a trash can on the wall and adding an over the door basket to store gift wrap accessories. It is a cheap and easy way to store gift wrap!
Tip & Image Credit: My Lovely Little Nest
Fabric Lined Laundry Baskets
While using metal laundry baskets to organize wrapping paper is a bit more expensive method to store wrapping paper, it is also a great way to do it! I love this metal laundry basket from Amazon, but you can also find them for great prices at TJ Maxx or Home Goods!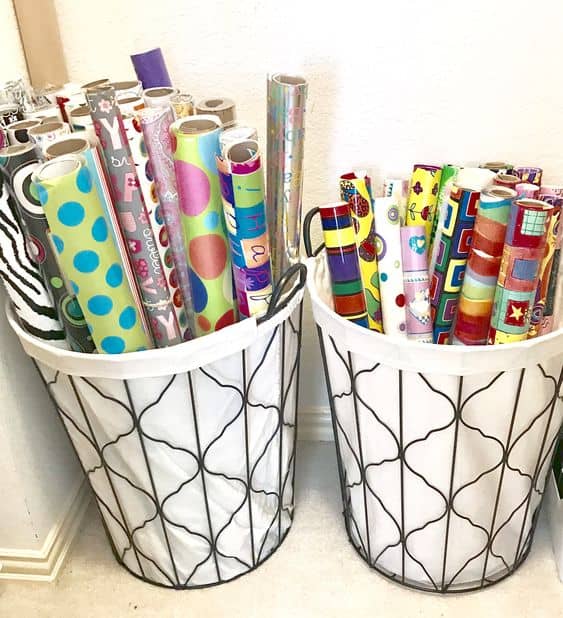 Tip & Image Credit: Neat Freak McKinney
Build a Shelf for Wrapping Paper Storage
If you have a ton of wrapping paper, you can easily build a shelf to store it all in! Check out how Older and Wisor build their own shelf on a budget!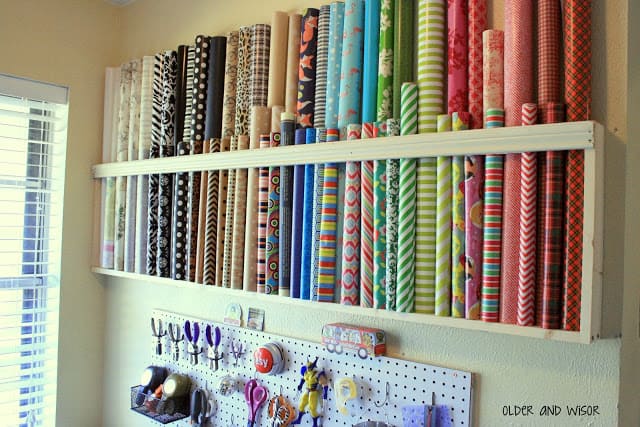 Tip & Image Credit: Older and Wisor
Decorative Metal Basket or Trash Can
Make storing gift wrap a statement piece by using a decorative bin or trash can!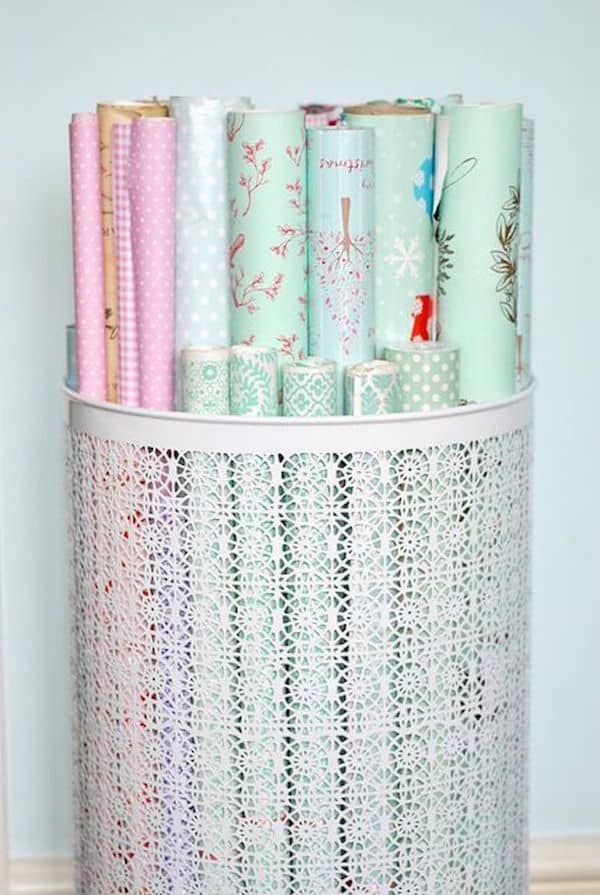 Tip & Image Credit: Torie Jayne
Over the Door Shoe Organizer
This last wrapping paper storage hack is brilliant! Simply take an over the door shoe organizer and cut out the bottoms of the pockets. Then slide your gift wrap into the pockets to store them all behind your door! Just dont cut the bottom row of pockets. And you can use the top pockets to store your bows, scissors, or tissue paper!
I think this one would work really well to store gift bags too!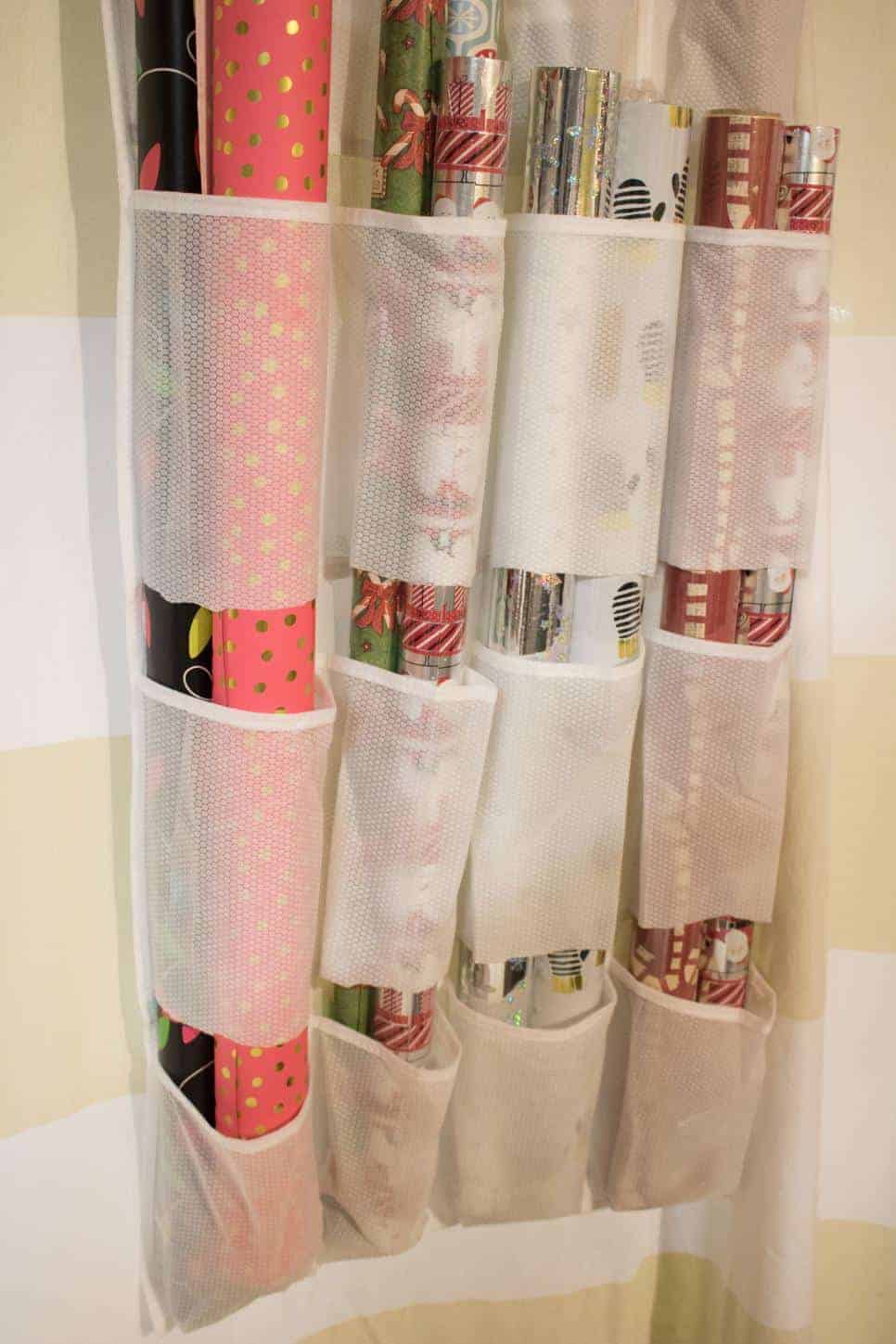 Tip & Image Credit: HGTV
You may also like: 10 Ways to Organize Christmas Decorations
Shop Our Favorite Wrapping Paper Storage Containers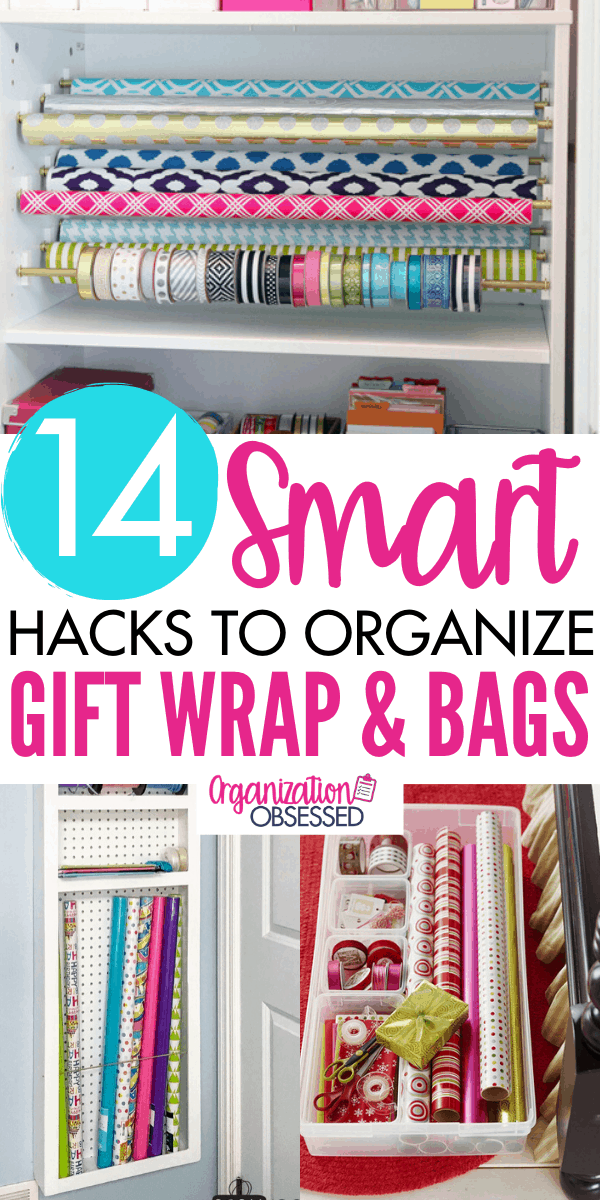 The post 14 Wrapping Paper Storage & Organization Ideas appeared first on Organization Obsessed.