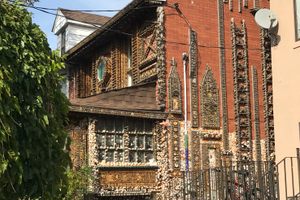 This home in Toronto's Seaton Village neighborhood is completely covered in thousands of coins, corks, glass beads, and small wooden pucks called "wood cakes." And if that wasn't enough, the unique decor carries over onto the homeowner's car, which is known as the "bug mobile" and you can often find parked out front.
After suffering a career-ending spinal injury in 1994, homeowner Albino Carreira was looking for something to keep him occupied while he recovered. He started small by decorating his mailbox with small glass beads. When the mailbox was covered, Carreira put some decorations on the house's porch. You might say things have escalated since then. The front of the house, the walkway leading to it, the front porch and garden, the sides of the house, and even the backyard and garage are covered in unwanted toys and knick-knacks.
The Wood Cake House was profiled on Weird Homes in 1997. It was named the City's Best Eccentric Garden in 1998, and one of Toronto's most unusual houses in 2016. Neighbors and visitors alike can be seen stopping in front of the house to revel at the quirky house and enjoy a moment of kitsch.