Tateyama Kurobe Alpine Route: Admire Neverending Natural Beauty
Photo by Pixta
Seventy percent of Japan's terrain is made up of mountains and hills. Thus, outdoor destinations are in abundance, and must-visit places are paradises for nature lovers.
The Tateyama Kurobe Alpine Route—spanning 37 kilometers, or 23 miles, in length—is one of the most popular mountainous attractions in Japan, nestled between Toyama Prefecture and Nagano Prefecture. You can enjoy the beauty of Mother Nature while traversing majestic mountains, including the 3,015-meter-tall (1,873 feet) Mt. Tateyama and 2,678-meter-tall (1,644 feet) Mt. Akasawadake.
The route has two starting points: Tateyama Station in Toyama and Ogizawa Station in Nagano. Visitors can go sightseeing from either point via the cable car, ropeway, or bus. Every spot along the journey is scattered with amazing sights to see. Some of them include Mikurigaike Pond, which beautifully reflects the mountains in its waters, and Kurobe Dam, the tallest dam in Japan! We suggest researching the places beforehand and double-checking the modes of transportation available.
In this article, we'll introduce these scenic spots along the Tateyama Kurobe Alpine Route and how to get to them.
*Some areas have suspended business operations and events in 2020 due to the effects of the coronovirus. Please check the official website for more details.
1. Hiking in Murodo and Stay the Night!
Picture courtesy of ©Toyama Tourism Organization
The Murodo area is the highest point along the Tateyama Kurobe Alpine Route. It lies at an elevation of 2,450 meters (1,522 feet) and is a must-visit destination. The area is also home to mountain lodges, campsites, and Mikurigaike Onsen—a natural hot spring with accommodation—which makes it an ideal place to stay the night.
Additionally, you'll find local specialties served at nearby restaurants. Shiraebi Karaage Don is a dish made with shiraebi (Japanese glass shrimp): a delicacy harvested only at Toyama Bay. These translucent shrimp are deep-fried with their shells and served over a bowl of steaming rice. Another local dish is the Kurobe Dam Chiffon, a large chiffon cake made in the image of Kurobe Dam.
With the passing of each season, the Murodo area is colored in various shades year-round. Enjoy the white snowscape during winter and spring, and witness the reappearance of lush greenery in the summer. When autumn arrives, the landscape becomes tinged with the fiery reds and yellows of the changing leaves. You can get to Murodo from Tateyama Station by transferring to the cable car and bus.
Now, we'll check out two more spots that shouldn't be overlooked when visiting Murodo.
20-Meter-high Snow Walls! Visit Between April and June
Picture courtesy of ©Toyama Tourism Organization
This spectacular sight, which can be seen after the winter holidays, is a 20-meter-tall snow wall. The impressive volume of snow piles up during the winter months! The Murodo area hosts a variety of activities exclusively between April and June. On the "Yuki-no-Otani" Snow Wall Walk, visitors ca meander along the 500-meter-long snow wall. Another attraction is the "ZEKKEI:" a panoramic road along a snow-covered promenade.
Mikurigaike Pond and its Mesmerizing Reflection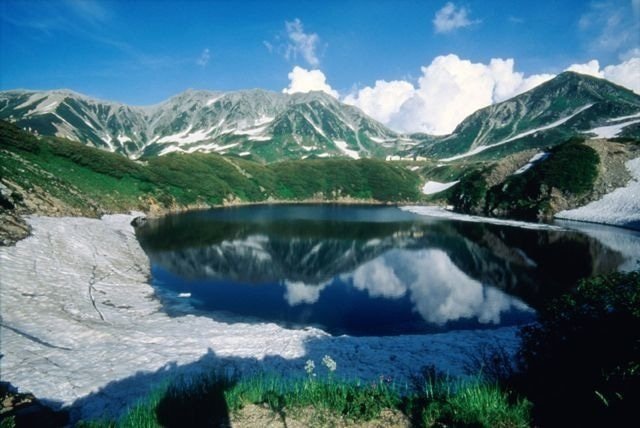 Picture courtesy of ©Toyama Tourism Organization
Mikurigaike Pond is a caldera lake that reflects the surrounding mountains, which measure 3,000 meters high. There is an hour-long route that circles this scenic lake. During spring to early summer, you might even catch sight of an endangered bird called rock ptarmigans, a national natural treasure of Japan.
The lake is covered with snow until around June, so you might see ice and snow floating in the water during spring. In autumn, the foliage brings another seasonal touch, making it a charming spot to visit year-round.
2. Enjoy a Panorama of Nature at Daikanbo
Photo by Pixta
Take the Tateyama Ropeway and head to Daikanbo Station while gazing at the natural splendor below you. The ropeway has been nicknamed a "moving observatory" because visitors can take in magnificent views while on the move. No pillars are supporting the ropes, making it feel as if you're being swallowed up by the sprawling landscape.
Once you've arrived at the station, take in the panoramic view at Unjo Terrace: an observation deck. Tables and chairs are available on the terrace so tourists can take a break and admire the scenery.
3. Experience the Power of Water at Kurobe Dam
Picture courtesy of ©Toyama Tourism Organization
Kurobe Dam is the tallest dam in Japan. Over ten tons of water is discharged per second from a staggering height of 186 meters (610 feet), creating a sight that will astonish all who visit. On sunny mornings, you might even catch a rainbow as sunlight reflects off the splashes.
Several observation areas overlook the dam. The Rainbow Terrace is where you can experience this massive structure from up close. As the wind blows through the water discharge, it sometimes causes water mist to spray over tourists. If you'd like to look over Kurobe Dam directly, we suggest walking up the 220-step staircase from Kurobe Dam Station to the Dam Observation Deck. You'll get an uninterrupted view of both the dam and Tateyama Mountain Range.
Kurobe Dam Rest House at Kurobeko Station serves a special curry made in the motif of the Kurobe Dam. The green curry represents the emerald green of Lake Kurobe while the rice is shaped to resemble the dam. There's even a fried cutlet in the roux of this hearty dish that looks like a sightseeing boat.
Kurobe Dam Station is a 16-minute bus ride from Ogizawa Station in Nagano. From Kurobe Dam Station, it is roughly 15 minutes on foot to Kurobeko Station.
4. Go Forest Bathing in Bijodaira
Photo by Pixta
Bijodaira is a primeval forest about seven minutes by cable car from Tateyama Station. The forest is home to Japanese beech trees ranging from 200 to 300 years old and large cedar trees dating back a thousand years. You'll certainly feel the magnificence of nature strolling through these woods.
As the leaves spread toward the sky, you'll see sunlight peeking through the trees. This serenity can also be felt in the pristine forest air. These factors are believed to soothe people and relieve stress. Why not enjoy the healing effect of forest bathing in Bijodaira?
Bijodaira is also a habitat to over 60 species of wild birds. In particular, May to June are the best months for birdwatching. There are also hiking courses that require at least an hour to complete. Be sure to choose the best route for your physical fitness when embarking on a foot trail.
5. Trek the Midagahara Wetlands to Your Heart's Content
Photo by Pixta
Midagahara is home to a wooden boardwalk that extends into the endless wetlands. As you stroll along the trekking course, admire the alpine plants abloom at your feet along with the 3,000 small ponds and puddles that occupy the wetlands. On sunny days, the waters reflect the clouds and create a sight unique to this highland.
Photo by Pixta
During the summer, the area is beautiful with its blue sky and lush wetlands. However, we recommend visiting during the autumn foliage season when the plants change to vibrant red and yellow hues from mid-September. You can also spot a sea of clouds if the weather conditions are right.
The shortest course is about 40 minutes. Luckily, all of the paths are entirely flat, including the longest course at two hours long, so it's safe for first-time trekkers.
Use Value Tickets for Travel
Transportation from Tateyama to Ogizawa is convenient when you buy a value ticket beforehand. If you're only traveling in one direction, get a one-way Alpine Route Ticket. You can easily purchase a round-trip ticket, too. Additionally, travelers have the option of choosing which stations are covered by the ticket, so check the official website for more details.
How to Get to Tateyama
The Tateyama Kurobe Alpine Route can be reached from two starting points: Tateyama Station in Toyama and Ogizawa Station in Nagano. Therefore, the first thing you should do is head to your preferred train station.
JR Toyama Station to Tateyama Station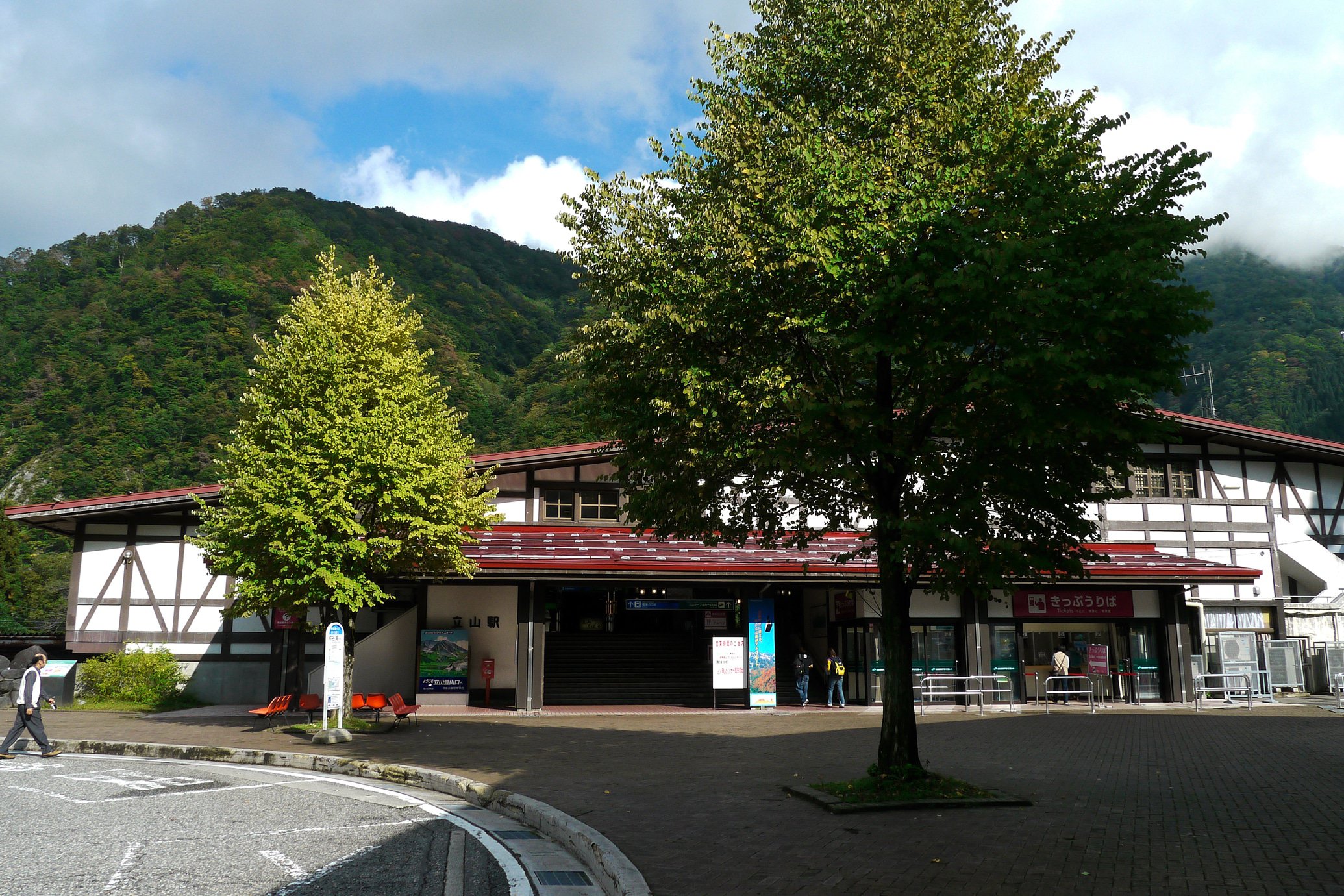 Picture courtesy of ©Toyama Tourism Organization
From JR Toyama Station to Tateyama Station, it will take about one hour along the local railway departing from Dentetsu-Toyama Station. Dentetsu-Toyama Station is a nine-minute walk from JR Toyama Station.
To arrive at JR Toyama Station from Tokyo, it will take two hours and eight minutes on the Hokuriku Shinkansen. If you're traveling from Osaka, first take the Limited Express Thunderbird to Kanazawa. Afterwards, take either the Hokuriku Shinkansen or a conventional train line to Toyama Station. The total travel time from Kanazawa Station to Toyama is 20 minutes by shinkansen or an hour by conventional train.
JR Nagano Station to Ogizawa Station
Photo by Pixta
To access Ogizawa Station from Nagano Station, take the special express Alpico bus that operates from mid-April to late November. The total travel time will be one hour and 45 minutes. Outside of this period, you can travel by bus to Shinano-Omachi Station, then transfer to another bus heading to Ogizawa Station for about 40 minutes.
To arrive at Nagano Station from Tokyo Station, take the Hokuriku Shinkansen for about an hour and 24 to 50 minutes. Traveling from Osaka to Ogizawa will require up to five hours while switching between the Shinkansen, limited express, regular train lines, and buses. It's advised to visit from the Toyama entry point.
Prepare in Advance for Pleasant Travels!
The Tateyama Kurobe Alpine Route is where you can enjoy trekking and hiking in the great outdoors. Do pack accordingly by bringing a pair of comfortable shoes and appropriate clothing to ensure a pleasant trip within nature!
Main photo by Pixta