Gift guides seem to be popping up earlier than ever this year for a myriad of reasons and when I learned that two of my friends were already DONE with their holiday shopping during our girls' weekend in Savannah, I figured maybe it was time to hop on it! "Gift guide" is also the number one search term on my blog at the moment so I'm guessing that means a bunch of you are ready for them, too!?
I'm kicking off my 2021 gift guides with my Gift Guide for Kids which is the gift guide I find the most fun to put together. It's also the easiest one for me to create since I'm fully immersed in kid craziness every day and feel like I have a good idea about the kinds of things our children love that might make good gifts for the little ones in your life.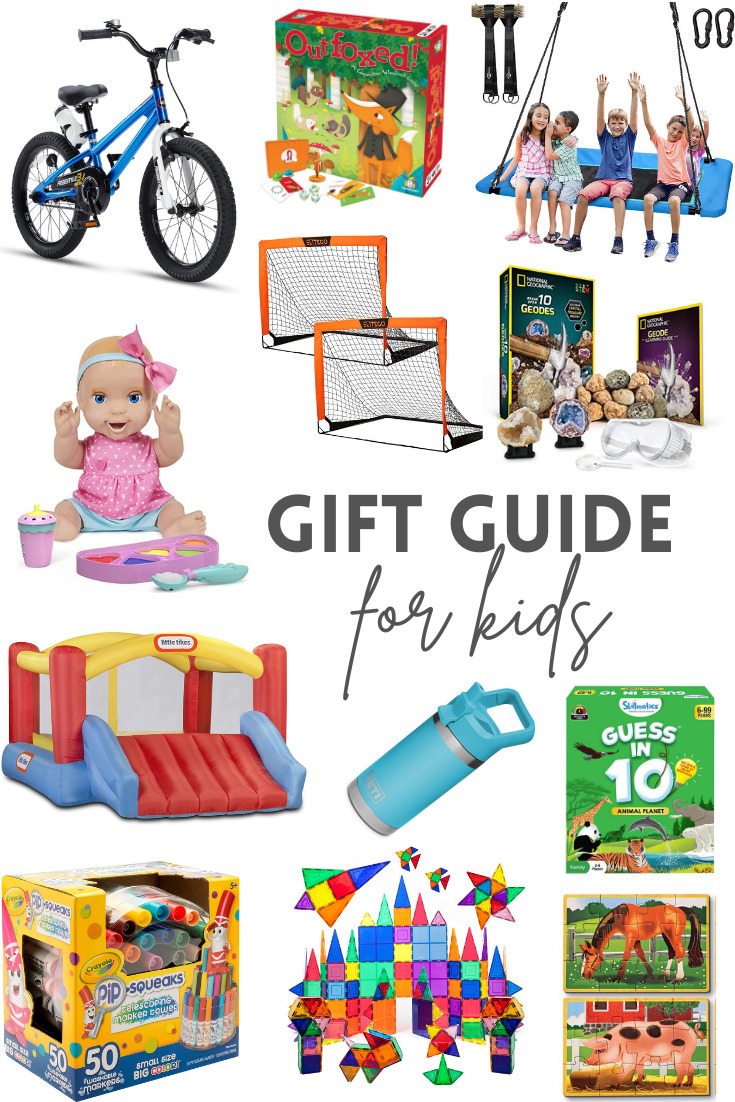 Like last year, I'm categorizing gifts under three main categories:
Something They Want
Something They Need
Something To Wear
Something To Read
I've seen this premise for determining what to give children for the holidays floating around the internet for years and think it's genius! It feels like a good way to balance giving children toys with things they will use every day, books they'll enjoy for months or years to come and clothes they may need.
Please note this gift guide is for kids who mostly fall in the 2-6+ age range. I'll try to share a gift guide for babies and toddlers soon as well but most of these gifts are items that our older boys (ages 3 and 6) use and love. As always, I tried to provide a variety of price points below and the majority of the gifts included in this gift guide are below $30. I've also saved a bunch of these gifts to my Amazon shop which you may find here: Gift Guide for Kids 2021.
Almost every single thing on this gift guide is either something our boys have and love or something they've loved at a friend's house or preschool (or may be getting this year!) and so they're all gifts I'm confident recommending. I hope something pops out at you for a very loved little one in your list!
GIFT GUIDE FOR KIDS
SOMETHING THEY WANT

Bounce House: A splurge for sure but Ryan nabbed this one for our boys on Black Friday a few years ago and it was the hit of Christmas. This one is low enough to use indoors and saves us on cold and rainy days. I think a bounce house will be on every children's gift guide I share until the end of time.
Swing: This is the swing the boys and their cousins adore that my sister has in her backyard. It's on our radar for Christmas for our boys this year because it was such a hit! It can hold 700 pounds (5 kids!) and is large enough for two adults, too. This is a smaller, less expensive version. Also, if you have the space for it, I think an indoor sensory swing would be such a cool gift.
Crayola Color Chemistry Set: This set is filled with 50 "experiments" that are easy to put together but also super cool!
Mealtime Magic Mia: Chase's BFF has this doll and she's amazing! Our girl mom friends swear by this doll over Baby Alive because she's totally mess free and still super interactive  — her food changes colors depending on which food you touch with a spoon, you can rock her to sleep and she chews and blinks. My niece also has this doll and loves it!
Gem and Fossil Dig Discovery Kit: Our kids think gem mining is the coolest and this is the next best thing you can do from your own living room.
Picasso Tiles: If you're going to spring for one item on this gift guide, let magnetic tiles be it! They're a sure-fire hit that will be played with for years.
Power Wheels: This was a gift from my mother-in-law to Chase on his fourth birthday and has proven to be one of the best and most-used gifts ever. The Jeep we have can go for several miles at two different speeds and can hold both Chase and Ryder at the same time.
Decorate Your Own Treasure Chest / Jewelry Box: My kids can't be the only ones who love putting "special things" away in a treasure chest! These decorate-your-own treasure chests/jewelry boxes are great for kids who love to save their little treasures in a special place.
Flower Crown Kit: This was part of a birthday gift we gave to a friend of the boys this summer and her mom still talks about how much they use and love this kit!
Cones: Cones are the gift that keep on giving. They're perfect for everything from obstacle courses, creating goals during various games and more.
Scooter: I can't find the scooter our boys have in stock anymore but any three-wheel scooter is a great "starter" scooter for younger kids.
Bike + Helmet: We got Chase a 16" bike when he was 4 and Ryder a 12" when he was 2. They both have this bike and the quality is great!
Creature Cage + Nets: Right around age 4, Chase's love for bugs and reptiles skyrocketed and he loves looking for creatures of all shapes and sizes. The boys' creature cages and nets get a LOT of use! Outdoor explorer kits are also a huge hit!
Dress Up Clothes/Costumes: Imaginative play is going strong in our house and both boys love dressing up in various costumes. We have an assortment of animal costumes, character costumes, essential worker costumes and superhero costumes and they all get a lot of use!
Geodes: If you want to see kids freak out over a gift in the best kind of way, wrap up some geodes they can crack open. Ryan got these for the boys two years ago for Christmas and I never could've anticipated how much they loved them.
Terrarium: A big-time hit with nature-loving kids, this terrarium is fun to assemble and check every day as they watch their plants grow.
Games: For kids 5+, the Outfoxed! Whodunit Game is awesome. It's a cooperative game and you work together to catch a thief. More favorites in our house include Hoot Owl Hoot, Guess In 10 (love this one for road trips!), this 6-pack of card games and Guess Who?
Pop Up Portable Soccer Goals: My mother-in-law gave these to the boys last year and I love that they can be folded away for easy storage but our boys play with them so often that we almost always just keep them out! They're obviously great for playing soccer but our boys use them for a variety of games.
Surprise Bath Fizzies: Bath bombs with little toys inside are always the biggest hit with our boys!
Botley Coding Robot: This is Chase's "big gift" this year. He fell in love with robotics at school and thinks coding is awesome. I love Learning Resources products and have high hopes for this one based on the reviews.
Puzzles: We do puzzles in our house daily! Some of our favorites: Safari Giant Floor Puzzle, 4-in-1 Wooden Jigsaw Puzzles (Ryder flies through these), 100-Piece Wild Animals Puzzle (Ryder needs help with this one but Chase loves it and it's a great family puzzle), Wooden USA Puzzle (Love this one to help learn geography, too!). Also check out the Busy Puzzle Etsy Shop for some gorgeous and seriously creative puzzle options!
Felt Ball Sling Shot: A friend recommended these to us and I'm ordering them for Chase and Ryder this year.
LeapFrog Rockit Twist Electronic Game: We save this one for long car rides and both boys think it's awesome.
Additional Ideas: Stomp Rockets, Butterfly Habitat (Our boys were obsessed — but only get this one if you live in a warm climate and can release the butterflies once they emerge from their chrysalis), LCD Writing Tablet, Dollhouse, Walkie Talkies, Loom Weaving Kit, Legos, Glider Airplanes
SOMETHING THEY NEED

SOMETHING TO WEAR

Slippers: For high-quality slippers that stay on little feet, I swear by Joules Padabout Slippers. The boot-like style keeps them on and they also have little grips on the bottom to prevent slipping. We've ordered a pair for Chase every winter and the quality holds up well so Ryder has been able to wear all of the hand-me-downs, too.
Rain Boots or Snow Boots: The Bogs Baby/Toddler/Big Kid boots are awesome. Chase's pairs have held up well and have been worn by all three of our boys!
Winter Hats and Mittens
Cozy Socks: I love to leave a pair of fuzzy holiday slipper socks our for our for the boys from our Elf on the Shelf in the beginning of December. (Old Navy is my go-to for these.)
Pajamas
SOMETHING TO READ

CHAPTER BOOKS: 
Magic Treehouse Series: The best foray into chapter books for little kids. We've read every single book in this series at least twice… and there are 100 if you count the Merlin Missions series, too!
Dragon Masters: The series Chase discovered and loved this year.
Harry Potter: We began reading Harry Potter with Chase this year and it was just magical! We'll be spacing out the books a bit since I know the later ones are better for bigger kids, but the first one was perfect for a 6 year old. I actually just ordered him the illustrated edition of the second book last week!
ADDITIONAL BOOKS: 
The post PBF Gift Guide 2021: Kids appeared first on Peanut Butter Fingers.